How do I get Medicare Part B and how much does it cost?
HOW DO I GET MEDICARE PART B AND HOW MUCH DOES IT COST?
Some people automatically get Medicare Part B (Medical Insurance) when they turn 65, and some people need to sign up for Part B. Learn how and when you can sign up for Part B.
If you don't sign up for Part B when you're first eligible, you may have to pay a late enrollment penalty.
How much does Part B cost?
In 2018, most people will pay the standard premium amount of $134 for Medicare part B. However, if you had Medicare Part B prior to 2018, are receiving Social Security benefits, and have your Part B premium deducted from your Social Security check, you may pay less. On the other hand, if your modified adjusted gross income is above a certain amount, you may pay an Income Related Monthly Adjustment Amount (IRMAA). Medicare uses the modified adjusted gross income reported on your IRS tax return from 2 years ago (the most recent tax return information provided to Social Security by the IRS).
The total Medicare Part B premiums for high income beneficiaries for 2018 are shown in the following table: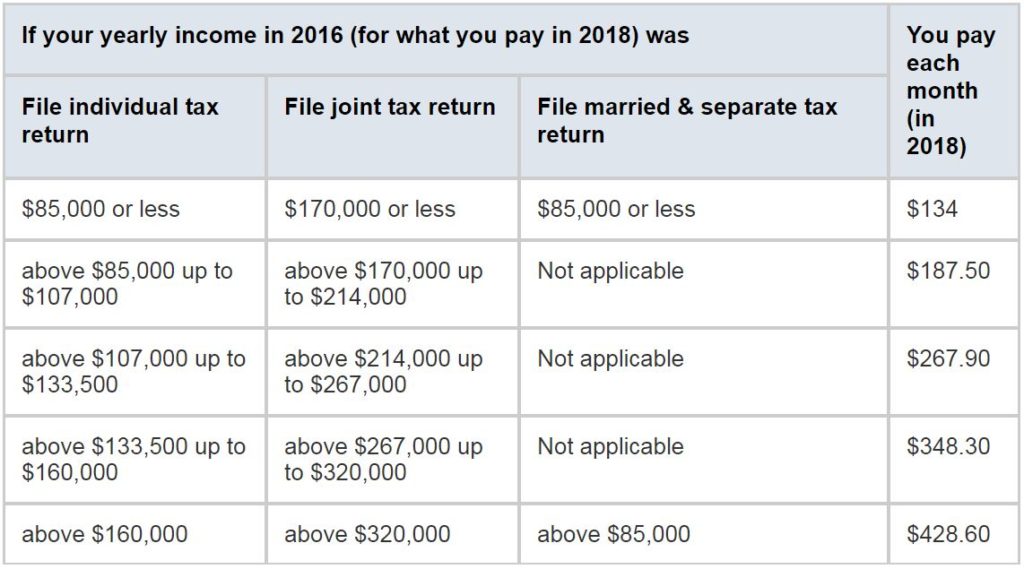 Late enrollment penalty:
In most cases, if you don't sign up for Part B when you're first eligible, you'll have to pay a late enrollment penalty for as long as you have Part B. Your monthly premium for Part B may go up 10% for each full 12-month period that you could have had Part B, but didn't sign up for it. Also, you may have to wait until the General Enrollment Period (from January 1 to March 31) to enroll in Part B, and coverage will start July 1 of that year.
How to Avoid the 3 Most Common Mistakes when Selecting a Medicare Plan
A Free, no-obligation workshop that details the Medicare enrollment process.
Medicare Emrollment Workshop
We will address all the confusion of medicare insurance you hear from friends, family and the national media.
We will explain the hidden costs of a medicate policy and detail what you can expect to pay on an annual basis.
We will explore all the medicare options available to you and help you find the program that best fits your life situation.
Reserve Your Seat Today